Pop-Star Jayda Attends Warner Brothers Grammy Awards Pre-Party Making Amazing new Connections Industry: Music [PR Underground]
Austin Pop Singer Jayda is winning fans at a rapid pace both outside & inside the music industry. The recent Grammy Award celebration was one of the social highlights of her young career.
Austin, TX (PRUnderground) February 15th, 2019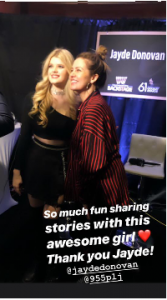 "This was an amazing part of my trip across the country to promote my music," commented Jayda. "I was able to meet so many wonderful people and they all really treated me great and were totally encouraging."
Counted among those who encouraged Jayda to continue in her quest to become a pop superstar was Bebe Rexha who she met at the Warner Brothers Pre Party, and had nothing but kind and supportive words. Jayda had with her for the fun, glitter, and glamour at all the events, fellow Texas-girl her dear friend Gracie Bailey which made things even more special.
At the Westwood One Backstage at the Grammy Awards Show Jayda was interviewed by a number of top radio and online shows including Pop Crush, The Bert Show, and by Jayde Donovan who has the largest syndicated music show that appeared at the Westwood One Backstage event, with all of the interviews going remarkably well and displaying Jayda's infectiously positive personality and musical ability.
To keep up on the latest news from Jayda visit her website at https://www.jayda.press.
About Jayda
Jayda is the next breakout pop artist. Jayda has worked alongside Grammy Award-Winning producers: two-time Grammy Award-Winning Producer, Chad Carlson (Taylor Swift), nine-time Grammy Award Winner, (Tom Coyne), and Ryan G. Clef. She has studied dance, writes, & performs her own music and she\'s only 18-years old. Jayda spent most of her life growing up in the "Live Music Capital", Austin, Texas where music was always a part of her family.
Her great grandfather RT Rea was a singer and would play both the guitar and harmonica when she was young. Her grandma Necia Rea was a church choir leader. "I write pop music because the music is so upbeat and energetic, and I love to dance," Jayda explains.
When Jayda's not making music, she enjoys spending time with family and volunteering her time with several charities and organizations helping women and children.
SOURCE: PR UNDERGROUND